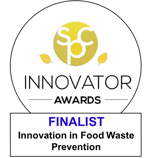 Polystyrene has long been the material of choice for a vast range of rigid food packaging applications from single-serve condiments and coffee pods, to yogurt multi-packs, creamers, shelf-stable beverages and much more.
But lack of recycling options, coupled with health and safety concerns, have resulted in initiatives to replace polystyrene -

the favored material for Form-Fill-Seal processing -

in food packaging on a global scale.
In parallel, environmental concerns have resulted in industry-wide efforts to improve the sustainability of packaging solutions and reduce waste, both in terms of packaging and product.
To date, brand owners have been in search of alternatives only to be presented with solutions that fell short on performance, cost more, or required significant capital expenditure. In addition, recognizing the attractive sustainability attributes of polypropylene, many attempts have been made to develop a polypropylene-based solution for form-fill-seal, only to result in significant downstream processing challenges and compromise to part performance, ultimately proving infeasible.
With the vision to reduce waste, develop recycle ready barrier packaging and provide a viable solution for the replacement of PS in form-fill-seal food packaging, ICPG has developed XPP™ Enhanced Barrier Polypropylene Rollstock, a mono-material barrier polypropylene rollstock solution designed to extend the shelf-life of commercially packaged thermoformed and form-fill-seal food products.
Enhanced Barrier Protection Offers Extended Shelf-Life Performance
XPP is a mono-material polypropylene rollstock solution that offers improved OTR & MVTR barrier performance in comparison to other commercial packaging materials without the use of specialty barrier materials, coatings, mineral fillers or additives.
These improvements to barrier properties present the opportunity to extend shelf-life, reduce instances of food waste and spoilage and, in some cases, reduce or eliminate the use of additional materials typically found in barrier packaging structures for a simplified, more sustainable and recyclable solution for rigid thermoformed and form-fill-seal food packaging (application dependent).
barrier improvements
Polyolefins naturally possess excellent Moisture Vapor Transmission Rates (MVTR) but typically require the use of barrier materials such as EVOH to achieve the oxygen barrier protection needed for shelf-stable and extended shelf-life food packaging.
XPP solutions deliver a dramatic improvement to both the Oxygen Transmission Rate (OTR) and the MVTR in comparison to other commonly used thermoplastic materials - before the use of specialty barrier materials, coatings or additives – offering:
Up to 90/90% improvement in OTR/MVTR barrier protection vs traditional PP
Over 100/150% improvement in OTR/MVTR barrier protection vs PS
This improvement to the barrier performance of XPP Enhanced Barrier and XPP High Barrier in comparison to traditional propylene and polystyrene solutions presents food processors and brand owners with the opportunity to further extend product shelf-life and reduce food waste.
case study
XPP High Barrier for Portion Control Condiment Cup
For shelf-stable and high barrier applications that require further OTR barrier protection, XPP High Barrier incorporates a layer of EVOH (less than 2.5%) resulting in a packaging solution that exceeds current commercial barrier protection while maintaining the required ratio of PP:EVOH for recycling purposes.
To meet the barrier and shelf-life requirements for shelf-stable single-serve condiments, for example, XPP High Barrier with a coextruded layer of EVOH was tested:
XPP Material Solution: .0175" XPP High Barrier in Natural and Clear

Control Commercial Structure: .015" White HIPS w/ Single-sided PVDC Coating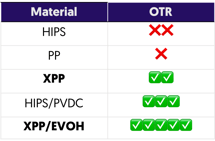 When comparing the OTR results of the XPP High Barrier to commercial HIPS/PVDC cups, parts produced from ICPG's XPP High Barrier resulted in up to 60% improvement in OTR barrier properties.
This improvement to the barrier performance allows for the use of XPP materials in packaging applications where traditionally functional barrier material solutions such as HIPS/PVDC were the only solution to further enhance barrier protection for shelf-stable form-fill-seal applications.
As a result of ICPG's XPP development, this material innovation enhances and simplifies traditional PP performance resulting in a more easily recyclable without sacrifice to performance.
Replacing Traditional PS Structures with a More Sustainable Alternative
The demand for plastic waste reduction and more sustainable packaging solutions have increased global concerns regarding the sustainability and recyclability of single use packaging. ICPG's XPP rollstock solutions allows converters and brand owners the opportunity to economically and effectively replace PS food packaging with a more sustainable solution, without sacrifice to barrier protection or performance.
structure simplification & recyclability
In comparison to other barrier material structures produced from a complex mix of materials, XPP solutions are produced from polypropylene materials resulting in a more recycle-friendly solution. Inherent barrier improvements and enhanced properties are achieved without the use of specialty barrier materials, coatings, mineral fillers or additives.
Comparative barrier materials such as HIPS/PVDC must be identified using the Resin ID Code #7, which limits opportunities for recycling and re-use in other applications.
density/weight reduction & material consumption
XPP material solutions offer a 12% density reduction in comparison to PS and a 30% density reduction in comparison to PET. This density reduction results in a higher yield (more parts) during thermoforming processes, lighter-weight parts, less solid waste by weight and reduced material consumption in comparison to PS and PET:
| | | |
| --- | --- | --- |
| Material | Yield Factor | Consumption (lbs) |
| PS | 1.04 | 10,000,000 |
| PET | 1.33 | 12,780,000 |
| XPP | 0.91 | 8,800,000 |
For thermoforming and form-fill-seal processes, this increase or decrease in linear feet directly impacts part yield.
Holding all other variables constant such as gauge, width and quantity (lbs), a decrease in material density correlates to an increase in output, or part yield, and vice versa.
The following example which details the difference in output between the same quantity of three common materials used in thermoformed and form-fill-seal food packaging for various packaging formats:
Material

Quantity (lbs)

Estimated Application Part Yield

Single-Serve Creamer Cups

Multi-Pack Yogurt Cups

Barrier Pudding Cups

Shelf-Stable Juice Cups

PC Condiment Cups

PET

1,000,000

480,706,794

55,734,121

72,049,730

53,785,376

279,683,953

PS

1,000,000

616,290,761

71,454,001

92,371,449

68,955,610

358,569,170

XPP

1,000,000

690,245,652

80,028,481

103,456,023

77,230,283

401,591,470
Downstream sustainability advantages
The low density and lightweight nature of polypropylene also allows further downstream sustainability advantages for an overall reduced carbon footprint including:
Less solid waste by weight

Less CO

2

equivalents by weight

Lower fuel consumption

Fewer emissions
Download the Achieving Environmental & Economic Cost Savings Case Study to Learn More
PS Replacement Made Easy with Drop-In XPP Solutions
XPP offers enhancements to key functional properties including enhanced stiffness and controlled shrinkage, allowing for processing on existing thermoforming and FFS platforms and without the need for significant equipment modifications or additional capital expenditure.
drop-in processing
ICPG's XPP thin-gauge rollstock solutions offers enhancements to key properties to offer a drop-in material replacement solution for PS in rigid thermoformed and form-fill-seal packaging:
Controlled Shrinkage: XPP offers controlled shrinkage allowing for drop-in processing on existing thermoforming & form-fill-seal systems and tooling typically used to process PS. This is an inherent characteristic of the material and is accomplished without the use of mineral fillers such as talc or calcium carbonate, thus maintaining PP density and ability to sort for recycling.


Increased Stiffness: Traditional PS materials offer flex modulus/stiffness numbers of about 300KPsi. In comparison, XPP materials offer over 30% improved stiffness, resulting in a stronger and more rigid solution compared to traditional PP and PS. This increased stiffness also presents the opportunity for down-gauging and light weighting of existing structures further contributing to reduced material consumption.


Snap-able Polypropylene: This increase in rigidity & stiffness maintains the "snap-ability" and "scorability" of PS required in certain Form-Fill-Seal multi-pack applications. This key functionality allows for application versatility and the ability to replace traditionally non-recyclable materials such as HIPS/PVDC with a fully-recyclable solution without sacrificing functional attributes & processing characteristics.



Watch the Full "Snap Test" Video Here!
Successful processing using equipment designed for the processing of PS for food packaging applications has been achieved with no modifications to existing equipment or tooling.

*While a healthy recycling stream exists for clear PET bottles, recyclability for rigid PET barrier packaging and opaque rigid PET becomes more challenging.
Download the XPP Properties Comparison Cheat Sheet to see how XPP Compares to alternative materials
application versatility & Proposition 65
Polypropylene is, in general, widely accepted as a very clean and safe material with excellent organoleptic properties for use in direct food contact packaging applications. With increasing concern towards the Styrene and Ethylbenzene present in PS, as well as the inclusion of PS in California's Proposition 65, more and more brand owners have been in search of a solution that offers increased health and safety without sacrificing other necessary attributes including barrier performance, compatibility with existing platforms, package functionality and product protection.
XPP solutions now offer an extremely versatile drop-in replacement solution that fulfills all key requirements, all while enhancing the safety, sustainability and recyclability of the packaging for use in a wide variety of packaging/sterilization processes including:
Aseptic

Hot fill

Retort

Modified atmosphere packaging

HPP

Freezer & microwave packaging

Form-fill-seal

Thermoforming
This material also offers suitability for applications in a variety of markets including:
Applesauce

Baby food

Dairy products including yogurt and creamers

Coffee & tea pods & capsules

Shelf-stable beverages

Single-serve fruit & vegetable cups

Single-serve condiments, dips & sauces

Pet food

Snack-packs/on-the-go products
Blogs
Case Studies
Cheat Sheet
Infographics
Product Sheets
Video
Whitepaper